Name: Squirtle
First Appearence: Blue and Red.
Appearence: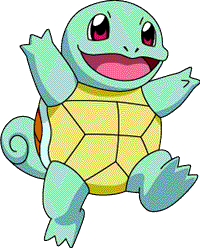 Weapons: Squirtle basically shoots water from his mouth, but he can also use his shell and head for some devistating attacks.
History: Squirtle is a small turtle Pokemon from Kanto. He is best Freinds with Charmander and when Charmander left to follow his big brother Charzard Squirtle decided to tag along. They have know each other since they were very small and are best freinds.
Note: (I am Mario on Video Game Maddness. Also Charmander wanted me to be a pokemon so i picked my favorite!


)